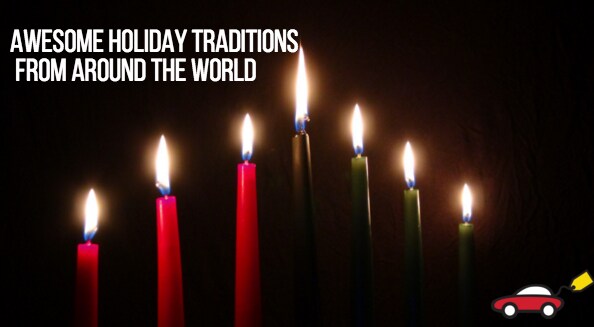 Every family has Christmas traditions. Here in the U.S, some of us participate in similar traditions, like leaving cookies and milk for Santa, burning the Yule log, drinking egg nog, and the giving and receiving of gifts.
But what do our neighbors around the world do this time of year? Christmas is a near universal holiday, celebrated in many different ways in the different corners of the world. How do Christmas traditions differ?
South Africa - a delicacy in South Africa, South Africans partake in the classic Christmas Day appetizer – deep fried caterpillars.
Norway - Christmas Eve in Norway is particularly festive, as no one is permitted to clean the house. All of the brooms are locked away in their closets so that evil spirits and witches don't come in the night and get to cleaning.
Japan - In 1974, KFC ran an incredibly successful Ad campaign, which resulted in many Japanese families eating KFC on Christmas Eve.
Germany - This German tradition has found some crossover success into America. Before children awake on Christmas Day in Germany, their parents will hide a pickle in the tree. Whichever child finds the pickle gets an additional, small, bonus gift.
Czech Republic - In the Czech Republic, unmarried women stand by their front door and throw a shoe over their shoulder. If the toe of the shoe is pointing toward the door when it lands, tradition says they will be married within the next year.
Iceland - The famous Icelandic "Yule Cat" is said to stalk the hills of Iceland, devouring those who don't receive new clothes before Christmas Eve.
Sweden - During Christmas time, families will make traditional rice pudding, and someone will hide an unpeeled almond in the pudding. Whoever receives the portion of pudding with almond, according to tradition, will be married within the next year.
Italy - Instead of Santa and Christmas, Italian children wait for the arrival of Befana, a friendly witch who delivers goodies to good children on January 5th.
What does your family do for Christmas?
Contact our Honda dealership
in St. Cloud, Minnesota for more information. Are you looking for the 2016 Honda Accord in St. Cloud? Let us know.
Click here
for directions to our Honda store in St. Cloud, Minnesota. Are you looking for Honda service in St. Cloud or Honda parts in St. Cloud? Reach out to us.
Luther Honda of St. Cloud is proud to serve the St. Cloud community, as well as customers looking for new and used cars for sale in Sauk Rapids, St. Joseph, Little Rapids and Monticello, Minnesota. Visit us today.