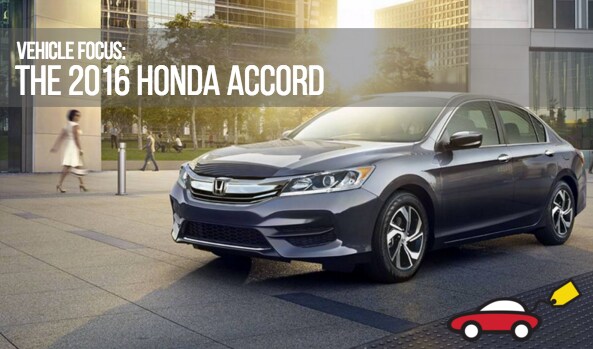 One of the more polarizing new vehicles on the market today has seen a remarkably positive response by fans and the general media.
That's the reason why it's our big vehicle focus to close out the year.
Our Honda dealership couldn't be more thrilled to offer the 2016 Honda Accord to our customers, and if you're on the market for a quality family sedan, you're looking at a fantastic option.
So, what does the all-new Accord offer that you need to be aware of?
Awesome gas mileage
You'll receive a phenomenal 37 miles per gallon on the highway and 27 miles per gallon in the city. It doesn't matter if you're making a quick trip to the store or a road trip to see family, you're going to conserve gas.
Plus, gas prices are dropping considerably right now, so by the time you cruise around in the Accord for a few months, a gas pump is practically going to be a stranger to you.
Fresh Style
As you can see, the Honda Accord got a makeover. The updated body evokes a sense of luxury that the Accord hasn't quite seen yet. This is definitely the most sophisticated model in vehicle's history.
Technology
The stunning high-definition touchscreen on the dashboard offers world-class technologies. You'll now have access to Apple CarPlay or Android Auto, which allows you to connect your smartphone to the touchscreen and have access to several apps and capabilities that you have on your phone. This makes it easier to communicate from there, and you won't have to touch your phone.
Vehicles are becoming more and more impressive these days, and the 2016 Honda Accord is a shining example of that. Let us know what you think about it on our
Facebook page!
Contact our Honda dealership
in St. Cloud, Minnesota for more information. Are you looking for the 2016 Honda Accord in St. Cloud? Let us know.
Click here
for directions to our Honda store in St. Cloud, Minnesota. Are you looking for Honda service in St. Cloud or Honda parts in St. Cloud? Reach out to us.
Luther Honda of St. Cloud is proud to serve the St. Cloud community, as well as customers looking for new and used cars for sale in Sauk Rapids, St. Joseph, Little Rapids and Monticello, Minnesota. Visit us today.